The 67th annual Blackman Barbeque will be from 5 to 8 p.m. on Friday, June 24  at Lane Agri-Park located at 315 John R. Rice Blvd. in Murfreesboro. Tickets are $12 for adults and $6 for children ages 10 and younger. They are being sold now by Blackman Community Club members and will also be available at the door. Proceeds go for upkeep of the Blackman Community Center, the scholarship fund and various service projects.
Food will be prepared by "Country Cajun Catering" by Robert McConnell and Clint Rine featureing outstanding smoked pork.  In addition to dinner the event includes music by "Pork and Beans," square dancing by the Cripple Creek Cloggers, and John Iden the "Balloon Man" will be there creating his balloon art and sculptures, as well as Face Painting, Corn Hole, an appearance by the Rutherford County fire department and much more.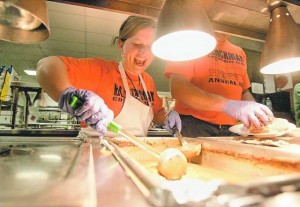 This is rated a "must see" event, featuring a chance to renew acquaintances and talk politics and meet your candidates.
We would like our event sponsors listed below. Sponsors are in no way affiliated with or endorsed by the Blackman Community Club.